Sarge Fitness Boot Camp in Alexandria Virginia – Chinquapin Park

Lucy is the instructor for Sarge Fitness Boot Camp at Chinquapin Park. She joined Sarge Fitness as a student in 2020, with the goal of improving muscle and bone density mass. An avid distance runner since college, she has completed marathons, ultra-marathons, and Ironman Triathlons.  For Luck, group fitness with an emphasis on strength training had been an integral part of her endurance training, and even though she does not race much these days, Lucy still enjoys multi-sport cross-training. Now a retired federal special agent, she decided to join the Sarge Fitness family as an instructor to assist others to improve their health and achieve their individual fitness goals. Lucy has a B.S. in Biology and an M.S. in Educational Psychology.
This program will help you work towards your fitness goals! The Chinquapin class has a mix of long time friendly clients as well as new people trying us out on a regular basis. Our workouts are a great mix of lower body, upper body, abdominal, and cardio with special physical challenges and hill workouts mixed in.
Join Us Online | Write a Review | Contact the Instructor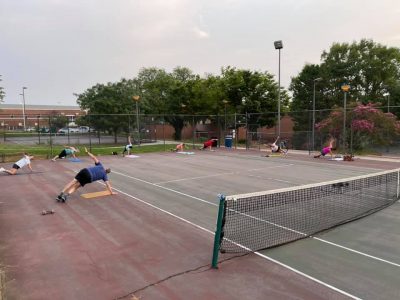 We meet Monday, Wednesday, and Friday from 5:45AM – 6:45AM.
We'll see you in class!
Chinquapin Park (Upper Tennis Courts)
3210 King Street
Alexandria, VA 22302
We meet on the upper tennis courts inside the park, behind the school, on the left hand side as you enter the park. There is plenty of parking all around the area.
This location is right off of King Street between Alexandria City HS (formerly T.C. Williams High School) and The Masonic Temple. It's a convenient location to everyone living in South Arlington, Northern Alexandria and Seven Corners.