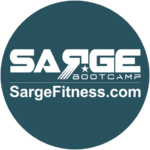 Welcome to Sarge Fitness, home of the longest running Fitness Boot Camp program in the nation!
We have locations in Virginia, Maryland and Washington DC.  Our classes are early in the morning so you can get your workout in before life gets in the way.  Sarge promises that you will accomplish more before 7AM than most people do all day.  Imagine what Sarge is going to do for your productivity and mental well-being.  Are you ready?  Let's do this!
Complete this form and a Sarge representative will reach out to contact you to help get you get started!