Sarge Fitness has been operating outdoor fitness boot camps since 2003!   
This co-ed program embodies many aspects of military physical training concepts but we left out the "in your face" drill instructor persona.  Each location is typically held outdoors (some move indoors for the winter) in the early morning or late evening hours year-round!  With over locations in Virginia, Maryland and Washington DC, there is likely one near you!
All fitness types and athletic abilities are encouraged to participate. 
Our goals with the program are: body fat reduction, increase your cardiovascular stamina, and build strength.  If these are your fitness goals, you are going to love this program.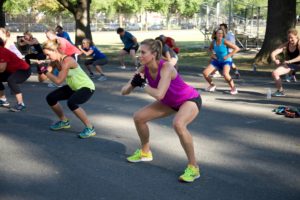 You will be challenged every day with exercises and routines guided by specifically trained instructors who provide personalized attention when necessary.  Each day will a variety of functional training, natural movements, core conditioning, Tabata, High-Intensity Interval Training (HIIT), and bodyweight exercises.  Your instructors are versed at leading groups of different abilities, regardless of weather or time of year.
The Sarge pricing structure offers the ability to participate in unlimited classes in-person, online, or both!
Click here to see your options.